The It Girl
The deliciously dark new thriller from the global bestseller
Format:Paperback
Publisher:Simon & Schuster Ltd
Published:27th Apr '23
£8.99
Available for immediate dispatch.
This paperback is available in another edition too: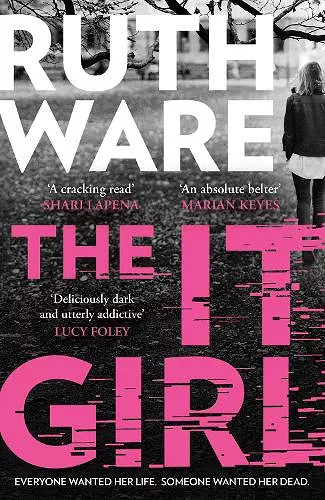 The 'deliciously dark and utterly addictive' (Lucy Foley) thriller from Sunday Times bestseller Ruth Ware. 
 
*** PRE-ORDER RUTH WARE'S THRILLING NEW NOVEL, ZERO DAYS, COMING IN PAPERBACK SPRING 2024 ***

THE RICHARD & JUDY PICK

'Deliciously dark and utterly addictive — my favourite Ruth Ware yet' LUCY FOLEY

Everyone wanted her life
Someone wanted her dead

It was Hannah who found April's body ten years ago.
It was Hannah who didn't question what she saw that day.
Did her testimony put an innocent man in prison?
 
She needs to know the truth.
 
Even if it means questioning her own friends.
Even if it means putting her own life at risk.
 
Because if the killer wasn't a stranger, it's someone she knows . . . 
 

PRAISE FOR THE IT GIRL: 

'An absolute belter. Could not put it down! I thought I knew who the killer was. Then I was CERTAIN it was another person! Then DEFINITELY another! Great characterisation, glamorous setting, all round FABALISS!' Marian Keyes 

'A cracking read – and that ending!' Shari Lapena

'Every Ruth Ware novel is a unique and unexpected gem and this one is no exception. A heady, tense, slowburn dream of a book, multi-layered and steeped in atmosphere and peril. I loved every page' Lisa Jewell

'Absolutely brilliant murder mystery - seamless, flawless, perfectly clued and utterly gripping' Sophie Hannah

'Impeccably crafted and totally compulsive – you'll be sad to reach the final page and realise you have to say goodbye' JP Delaney

'Ruth Ware's richly-textured The It Girl is at once an engrossing murder mystery while also a perfectly crafted and haunting examination of lost youth and the compromises of adulthood, as a woman unpicks the past secrets of her university friends to finally lay to rest her murdered best friend, the dazzling April. Reminiscent of The Secret History, Ware has surpassed herself with this gripping, absorbing whodunnit. I loved it! All hail the Queen' Sarah Pinborough

'If you ever idly wish that Agatha Christie would write a...
Praise for The It Girl: 

'An absolute belter. Could not put it down! I thought I knew who the killer was. Then I was CERTAIN it was another person! Then DEFINITELY another! Great characterisation, glamorous setting, all round FABALISS!' Marian Keyes 

'Every Ruth Ware novel is a unique and unexpected gem and this one is no exception. A heady, tense, slowburn dream of a book, multi-layered and steeped in atmosphere and peril. I loved every page' Lisa Jewell

'Absolutely brilliant murder mystery - seamless, flawless, perfectly clued and utterly gripping' Sophie Hannah

'Impeccably crafted and totally compulsive – you'll be sad to reach the final page and realise you have to say goodbye' JP Delaney

'Ruth Ware's richly textured The It Girl is at once an engrossing murder mystery while also a perfectly crafted and haunting examination of lost youth and the compromises of adulthood, as a woman unpicks the past secrets of her university friends to finally lay to rest her murdered best friend, the dazzling April. Reminiscent of The Secret History, Ware has surpassed herself with this gripping, absorbing whodunnit. I loved it! All hail the Queen' Sarah Pinborough

'If you ever idly wish that Agatha Christie would write a new book, Ruth Ware has got you covered. The It Girl has all the clues, twists and red herrings you could wish for, in a thoroughly modern setting. An impeccably constructed mystery from start to finish' Jane Casey

'It's brilliant. Ruth is the master of the fiendishly twisty, yet completely believable, plot' Elly Griffiths

'Just finished The It Girl by Ruth Ware and now my life is divided in two: before and after. Before: cool, calm, chilled. After: What? No! OMG! A wild ride that's deliciously twisting, with countless gasp-out-loud moments' Janice Hallett

'A new Ruth Ware is always a treat and The It Girl is one of her best.  You can almost see her smiling as she feeds you the little morsels that should help you work everything out - if only you were as clever as Ruth! As sleek and chilling as a knife between the ribs' Sarah J. Naughton

'Clever. Compelling and with a terrific sense of place. Ruth Ware's The It Girl grips to the end' Jane Shemilt
ISBN: 9781398508385
Dimensions: unknown
Weight: unknown
448 pages