This is a special Signed Edition, and has very limited quantity available
A Heart Full of Headstones Signed Edition
The Gripping New Must-Read Thriller from the No.1 Bestseller Ian Rankin
Format:Paperback
Publisher:Orion Publishing Co
Published:25th May '23
£9.99
Available to order, but very limited on stock - if we have issues obtaining a copy, we will let you know.
This paperback is available in another edition too: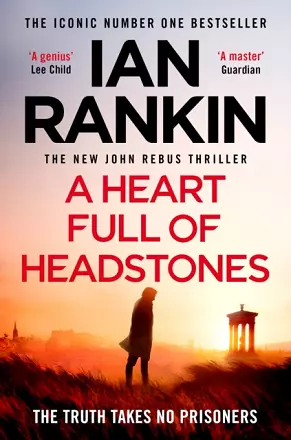 Please note that Ian Rankin will be signing copies prior to the book's publication date (25th May) and that Signed & Dedicated copies of A Heart Full of Headstones will be available to pre-order until Friday 19th May at 9am.
'I loved it - Rebus is one of fiction's greatest creations'
MARIAN KEYES

John Rebus stands accused: the once legendary detective is on trial, facing the rest of his life behind bars.How does a hero turn villain?
Or have times changed, and the rules with them?Detective Inspector Siobhan Clarke tackles Edinburgh's most explosive case in years, as a corrupt cop harbouring huge secrets goes missing.But is her loyalty to the police or the public? And who can she trust when nobody is truly innocent - including her former mentor Rebus - and a killer walks among them?As the time comes to choose sides, it becomes clear: after a lifetime of lies, the truth will break your heart...
ISBN: 9781398709386-S
Dimensions: 198mm x 129mm x 20mm
Weight: 400g
416 pages