A Song for the Dark Times
From the iconic #1 bestselling author of IN A HOUSE OF LIES
Format:Paperback
Publisher:Orion Publishing Co
Published:29th Apr '21
£8.99
Available for immediate dispatch.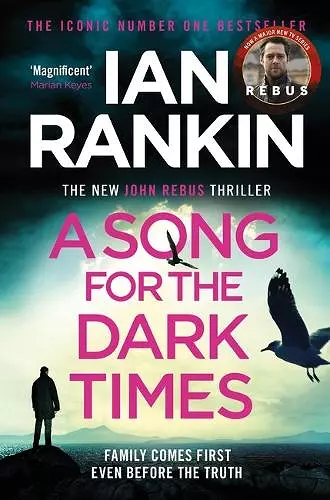 One of the must-read books of the year - from the iconic Number One bestseller, the one and only Ian Rankin.
From the iconic Number One bestseller Ian Rankin, comes one of the must-read books of the year: A SONG FOR THE DARK TIMES 'Genius ... Only great novels capture the spirit of the age. This is one of them.'THE TIMES
* * * * *

'He's gone...'

When his daughter Samantha calls in the dead of night, John Rebus knows it's not good news. Her husband has been missing for two days.
Rebus fears the worst - and knows from his lifetime in the police that his daughter will be the prime suspect.
He wasn't the best father - the job always came first - but now his daughter needs him more than ever. But is he going as a father or a detective?
As he leaves at dawn to drive to the windswept coast - and a small town with big secrets - he wonders whether this might be the first time in his life where the truth is the one thing he doesn't want to find...

PRAISE FOR A SONG FOR THE DARK TIMES:

'
Magnificent ... utterly unputdownable
and an immersive pleasure'
MARIAN KEYES

'This is Rankin at his best, Rebus at his best,
storytelling that meets the moment and transcends all genres and expectations'MICHAEL CONNELLY
'An
outstanding
addition to one of the finest bodies of work in crime fiction'
MICK HERRON
'Rankin remains the king of the castle'
THE TIMES
'Typically compelling'
DAILY TELEGRAPH
'Masterly storytelling'
SUNDAY EXPRESS
'Excellent'
LIZ NUGENT
'The best that the crime genre can offer'
FT
'Rankin grows better with time . . . Rebus grows ever more compelling'
DAILY MAIL

* * * * *
PRAISE FOR THE ICONIC NUMBER ONE BESTSELLER:
'Ian Rankin is a genius'
LEE CHILD

'A master storyteller'
GUARDIAN
'Rebus is one of British crime writing's greatest characters: alongside Holmes, Poirot and Morse'
DAILY MAIL
'Great fiction, full stop'
THE TIMES

'One of Britain's leading novelists in any genre'
NEW STATESMAN
'Rankin is a...
For more than three decades Ian Rankin has been out in front of the pack, delivering the best books out there, raising the bar each and every time. A Song For The Dark Times proves it. This is Rankin at his best, Rebus at his best, storytelling that meets the moment and transcends all genres and expectations. -- MICHAEL CONNELLY
Magnificent ... utterly unputdownable and an immersive pleasure. I loved it. -- MARIAN KEYES
An outstanding addition to one of the finest bodies of work in crime fiction. -- MICK HERRON
Only great novels capture the spirit of the age. This is one of them. * THE TIMES *
There is a sense of warmth and freedom in this novel, as though Rebus's retirement has liberated his creator as much as himself. * LITERARY REVIEW *
Rankin's affection for his character remains undimmed, even as he writes with candour about [Rebus's] failure as a father. * THE SUNDAY TIMES *
...masterly storytelling * SUNDAY EXPRESS *
Another class act from a storyteller who makes it seem effortless. * SUNDAY MIRROR *
...a gripping, complex mystery * MAIL ON SUNDAY *
[A Song for the Dark Times] is vintage Rankin - which is to say, the best that the crime genre can currently offer. * FINANCIAL TIMES *
No matter how dark the times, the arrival of a Rankin novel remains one of life's pleasures. -- Matt Nixson * DAILY EXPRESS *
ISBN: 9781409176992
Dimensions: 196mm x 128mm x 30mm
Weight: 280g
400 pages