Nuts and Bolts
Seven Small Inventions That Changed the World (in a Big Way)
Format:Hardback
Publisher:Hodder & Stoughton
Published:2nd Mar '23
£22.00
Available for immediate dispatch.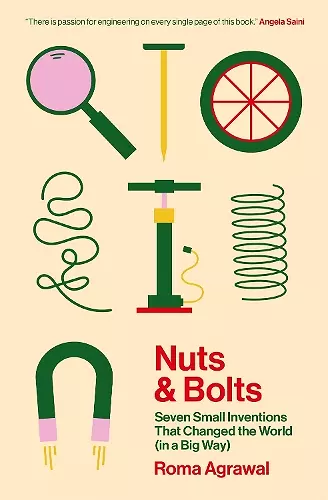 An ambitious but accessible book exploring how seven simple engineering inventions from the pump to the spring have shaped our world, by the engineer who designed the Shard.
*AS HEARD ON RADIO 4 START THE WEEK, OFF AIR WITH FI AND JANE AND 99% INVISIBLE*

'Delightful' TIM HARFORD, FINANCIAL TIMES
'Appeals to the nerdy side of just about all of us... a great book to give' JANE GARVEY
'A splendid book: clearly written, elegantly structured and full of facts you are unlikely to chance on anywhere else' DAILY MAIL
'A wonderful book' MARK MIODOWNIK
'A masterclass in storytelling' JESS WADE
'A riveting love letter to the small, wonderful, and mundane things that make the modern world.' ROMAN MARS

Smartphones, skyscrapers, spacecraft. Modern technology seems mind-bogglingly complex. But beneath the surface, it can be beautifully simple.

In Nuts and Bolts, award-winning Shard engineer and broadcaster Roma Agrawal deconstructs our most complex feats of engineering into seven fundamental inventions: the nail, spring, wheel, lens, magnet, string and pump. Each of these objects is itself a wonder of design, the result of many iterations and refinements. Together, they have enabled humanity to see the invisible, build the spectacular, communicate across vast distances, and even escape our planet.

Tracing the surprising journeys of each invention through the millennia, Roma reveals how handmade Roman nails led to modern skyscrapers, how the potter's wheel enabled space exploration, and how humble lenses helped her conceive a child against the odds.

She invites us to marvel at these small but perfectly formed inventions, sharing the stories of the remarkable, and often unknown, scientists and engineers who made them possible. The nuts and bolts that make up our world may be tiny, and are often hidden, but they've changed our lives in dramatic ways.
A wonderful book. A fascinating tour that brings to life the springs, ratchets and fibres that makes up the machines of our modern age -- Mark Miodownik
There is passion for engineering on every single page. Roma Agrawal has a special skill of reawakening that part of us that simply wants to understand how the built world works, and to dream of creating our own machines. -- Angela Saini
A masterclass in storytelling. Agrawal is the perfect narrator: her curiosity, technical knowledge and excitement fill every page. -- Jess Wade
Inside this wonderfully engaging book is a profound message: that so much of technology comes from ingenious reiterations of just a few innovations in engineering... Roma Agrawal brings these inventions vividly to life. -- Philip Ball
Essential reading for budding engineers, young and old. -- Anna Ploszajski
Fascinating stories behind the humble devices that make our human world work, told with an engineer's infectious excitement and enthusiasm for detail. -- Gaia Vince
Roma Agrawal locates the wonder of engineering in the lively Nuts and Bolts... she enriches her account by showing how her chosen devices also work in combination, creating artefacts as unlikely as they are exotic * Telegraph *
Clear, lively and engaging... the history of engineering tells us about who we are and who we have been. It can even lead us to who we want to be * Nature *
'Nuts & Bolts is a splendid book: clearly written, elegantly structured and full of facts you are unlikely to chance on anywhere else.' -- Daily Mail
'Delightful' -- Tim Harford * Financial Times *
ISBN: 9781529340075
Dimensions: 236mm x 162mm x 32mm
Weight: 530g
320 pages