The Pharmacist
The must-read, gripping and unforgettable debut of 2022
Format:Paperback
Publisher:Hodder & Stoughton
Published:10th Nov '22
£8.99
Available for immediate dispatch.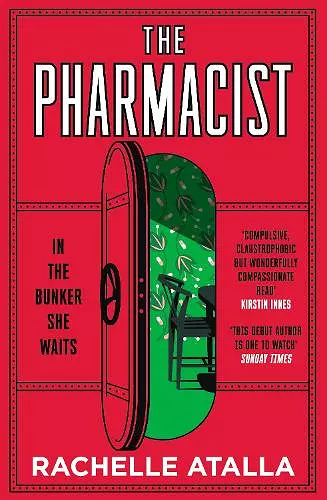 They're no longer allowed outside. All life is contained within four walls.
But is the bunker a place of safety, or a ticking bomb?
***SHORTLISTED FOR THE SCOTTISH FICTION BOOK OF THE YEAR***

'Rachelle Atalla nails the claustrophobic atmosphere and brings this world to life convincingly in her impressive debut' THE SUNDAY TIMES, PAPERBACK OF THE WEEK

'This horrendously claustrophobic, utterly absorbing debut. The fiercely controlled narrative beautifully translates the horrendous grip of dismal routines and tiny, stolen pleasures' DAILY MAIL

'There are shades of George Orwell in this stunning writing debut, but Rachelle Atalla's voice is highly original. And wholly her own' THE HERALD

'A compulsive, claustrophobic but wonderfully compassionate read, beautifully written and set within a brilliantly realised world. Rachelle Atalla is a major talent and I can't wait to see where her mind goes next' KIRSTIN INNES, AUTHOR OF SCABBY QUEEN

'Atalla's speculative literary thriller debut draws you in with its mounting sense of tension, disquiet and desperation' CULTUREFLY

THE BUNKER IS DESIGNED TO KEEP THEM ALL SAFE.

In the end, very few people made it to the bunker. Now they wait there for the outside world to heal. Wolfe is one of the lucky ones. She's safe and employed as the bunker's pharmacist, doling out medicine under the watchful eye of their increasingly erratic and paranoid leader.

BUT IS IT THE PLACE OF GREATEST DANGER?

But when the leader starts to ask things of Wolfe, favours she can hardly say no to, it seems her luck is running out. Forming an unlikely alliance with the young Doctor Stirling, her troubled assistant Levitt, and Canavan - a tattooed giant of a man who's purpose in the bunker is a mystery - Wolfe must navigate the powder keg of life underground where one misstep will light the fuse. The walls that keep her safe also have her trapped.

How much more is Wolfe willing to give to stay alive?

Beautifully written and utterly gripping, The Pharmacist will be a guaranteed conversation starter when it is published.

'An unflinching portrayal of what we might all be capable of, Atalla's stunning debut is essential reading for our times' HELEN SEDGWICK

'Though set in...
A compulsive, claustrophobic but wonderfully compassionate read, beautifullywritten and set within a brilliantlyrealised world. Rachelle Atalla is a major talent and I can't wait to see where her mind goes next * Kirstin Innes, author of Scabby Queen *
An unflinching portrayal of what we might all be capable of, Atalla's stunning debut is essential reading for our times * Helen Sedgwick, author of Where the Missing Gather *
Atalla's speculative literary thriller debut draws you in with its mounting sense of tension, disquiet and desperation * CultureFly *
There are shades of George Orwell in this stunning writing debut, but Rachelle Atalla's voice is highly original. And wholly her own * The Herald *
This horrendously claustrophobic, utterly absorbing debut. The fiercely controlled narrative beautifully translates the horrendous grip of dismal routines and tiny, stolen pleasures * Daily Mail *
Sitting somewhere on the spectrum between Paul Auster's heart-rending In the Country of Last Things and Bong Joon-ho's pulse-thumping film Snowpiercer, The Pharmacist is a slow-burn nightmare about how ordinary human decency gets eroded - and also how it perseveres * The Times *
Rachelle Atalla is obviously a talented and gifted writer * On Magazine *
Reminiscent of Orwell's Nineteen Eighty-Four, this unsettling story is a nightmare for our times of end-of-the-world prepping, increased nuclear insecurity and political inequality * Guardian *
A breathtaking, tense debut. ***** * The Sun *
It's really remarkable how she makes this bland, bleak, limited world so vivid and engrossing * SFX *
Rachelle Atalla's debut is a thought-provoking addition to the post-apocalyptic genre * Press Association *
The twists and turns in this brilliantly written, post-apocalyptic tale make for compulsive reading * Woman's Weekly *
Atalla nails the atmosphere of claustrophobia and brings this world to life convincingly, as well as fostering sympathy for her protagonist, despite her flaws. This debut author is one to watch * The Sunday Times *
Dystopian fiction, yes, but so much more. This book forces its readers to consider what it means to be good or evil, what motivates us to act as we do, and what matters to us in the end. A wonderful mix of tense drama and provocative ideas, I loved it * Elissa Soave, author of Ginger and Me *
The Pharmacist is the perfect dystopian novel. Post-apocalyptic fiction masterfully handled. Addictive, claustrophobic, tense. I'm obsessed with this novel. Easily in my top reads this year * Chloe Timms, author of The Seawomen *
The Pharmacist is a confident debut, in which Rachelle Atalla fully lives up to the promise of her New Writers Award . . . This literary thriller is highly original, asking difficult questions about morality and motherhood. And its claustrophobic atmosphere perfectly reflects the setting. * The List *
Rachelle Atalla's elegant debut novel is a compelling account of a society whose rigid inhumanity is pierced with glimmers of hope * Daily Mail *
Rachelle Atalla nails the claustrophobic atmosphere and brings this world to life convincingly in her impressive debut * The Sunday Times, PAPERBACK OF THE WEEk *
Highly original * The Herald, Best Scottish Books of 2022 *
This elegant debut novel is a compelling account of a society whose rigid inhumanity is pierced with glimmers of hope * Sunday Mail *
ISBN: 9781529342147
Dimensions: 196mm x 128mm x 30mm
Weight: 259g
368 pages