Kairos
Format:Hardback
Publisher:Granta Books
Published:1st Jun '23
£16.99
Available for immediate dispatch.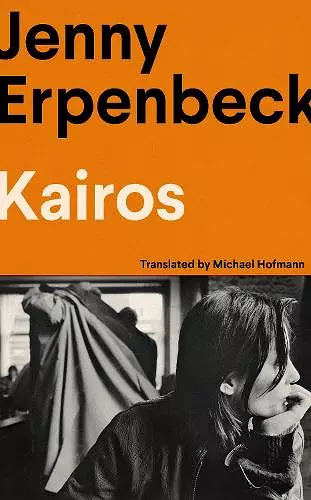 From an internationally acclaimed, multi award-winning author: this is a story of love and betrayal set in Berlin during the years before and after the fall of the Wall.
'An ambitious story of love and betrayal' - Irish Times 'The ending is like a bomb thrown into your room -- you'll be reeling for days and weeks to come.' - Neel Mukherjee Berlin. 11 July 1986. They meet by chance on a bus. She is a young student, he is older and married. Theirs is an intense and sudden attraction, fuelled by a shared passion for music and art, and heightened by the secrecy they must maintain. But when she strays for a single night he cannot forgive her and a dangerous crack forms between them, opening up a space for cruelty, punishment and the exertion of power. And the world around them is changing too: as the GDR begins to crumble, so too do all the old certainties and the old loyalties, ushering in a new era whose great gains also involve profound loss. From a prize-winning German writer, this is the intimate and devastating story of the path of two lovers through the ruins of a relationship, set against the backdrop of a seismic period in European history.
Revelling in complexity and ambiguity, Erpenbeck knows that no one is all bad, no state all rotten, and she masterfully captures... existential bewilderment -- Anna Katharina Schaffner * TLS *
In this granular and, at times, shockingly intimate narrative of an all-consuming love affair that ultimately turns abusive, Jenny Erpenbeck has written an allegory of her nation, a country that has ceased to exist -- East Germany. No writer on the world stage can make the texture and details of individual lives articulate so seamlessly and unobtrusively the way humans are subjects of, and subjected to, history. The ending is like a bomb thrown into your room -- you'll be reeling for days and weeks to come. -- Neel Mukherjee
An ambitious story of love and betrayal * Irish Times *
Erpenbeck is a writer with a roving, furious, brilliant mind. Kairos bears with it the absolute urgency of existential questions... Erpenbeck's handling of characters caught within the mesh (and mess) of history is superb. * Los Angeles Times *
Erpenbeck is among the most sophisticated and powerful novelists we have. Clinging to the undercarriage of her sentences, like fugitives, are intimations of Germany's politics, history and cultural memory. It's no surprise that she is already bruited as a future Nobelist * New York Times *
An intimate account of obsessive, transgressive passion. Erpenbeck writes masterfully about time * Harper's *
ISBN: 9781783786121
Dimensions: 216mm x 135mm x 21mm
Weight: 413g
304 pages