The Outrun
Format:Paperback
Publisher:Canongate Books
Published:11th Oct '18
£10.99
Available to order, but very limited on stock - if we have issues obtaining a copy, we will let you know.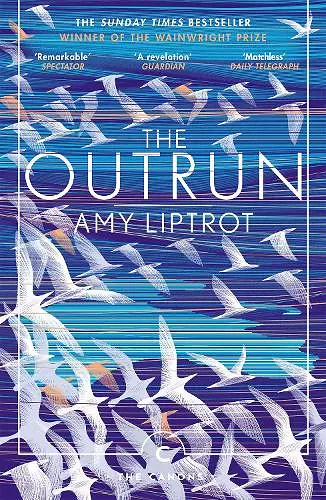 The Sunday Times runaway bestseller - an exhilarating nature memoir about recovering from alcoholism in Orkney
THE SUNDAY TIMES TOP TEN BESTSELLER
WINNER OF THE 2017 PEN ACKERLEY PRIZE
WINNER OF THE 2016 WAINWRIGHT PRIZE
SHORTLISTED FOR THE 2017 ONDAATJE PRIZE
SHORTLISTED FOR THE 2016 WELLCOME PRIZE

At the age of thirty, Amy Liptrot finds herself washed up back home on Orkney. Standing unstable on the island, she tries to come to terms with the addiction that has swallowed the last decade of her life. As she spends her mornings swimming in the bracingly cold sea, her days tracking Orkney's wildlife, and her nights searching the sky for the Merry Dancers, Amy discovers how the wild can restore life and renew hope.
A lyrical, brave memoir. It's Liptrot's aptitude for marrying her inner-space with wild outer-spaces that makes her such a compelling writer . . . I enjoyed this book enormously -- WILL SELF * * Guardian * *
The sheer sensuality of Liptrot's prose and her steely resolve immediately put her right up there with the best of the best. Liptrot is an Orcadian warrior with the breeze in her blood and poetry in her fingers, and The Outrun may even be a future classic. Wherever she journeys next, you will want to go with her * * New Statesman * *
An exhilarating memoir . . . Anyone who has ever been unhappy or unwise will find much that resonates in this powerful, beautiful writing -- CATHY RENTZENBRINK * * Stylist * *
An uncompromising account of addiction and recovery played out against the blasted fields of Orkney. Liptrot's writing is strong and sure. The Outrun is a bright addition to the exploding genre of writing about place and our place in the natural world * * Observer * *
Remarkable . . . a meditative interior journey which Liptrot elevates to an art * * Spectator * *
An unflinching examination of trauma, addiction and the restorative power of the natural world . . . It is a wild, wind-lashed book, and you come away from reading with the taste of salt spray on your lips -- Evie Wyld * * New York Times * *
Brilliant . . . one of the most scabrously honest, sassy and moving books about addiction and recovery that I have read * * Scotsman * *
An astonishingly beautiful book. Amy makes most nature writing seem flat and pedestrian. Her account of her addiction and recovery is electric, sexy, immediate and raw, leaving the reader reeling in her wake . . . This is a luminous, life-affirming book, and I have no doubt that I'll be pressing it into people's hands for years to come -- OLIVIA LAING
There is a great deal of frank, flinch-making writing in this book, but it is always balanced by a sublimity and graciousness that is rare. This is a bold-hearted and brave-minded book. It is both terribly sad and awfully affecting. I look forward to its presence on some prize lists * * Scotland on Sunday * *
Clean, clear and impressive . . . a sensuous book, full of summer nights and winter water. Liptrot swims, walks, lives alone on uninhabited islands and observes. And from that comes a portrait of the natural world she is absorbed into * * Herald * *
Winner of Wainwright Prize for Nature Writing 2016 (UK)
Winner of PEN/Ackerley Prize 2017 (UK)
Short-listed for Wellcome Book Prize 2016 (UK)
Short-listed for Saltire Society Non-Fiction Book of the Year 2016 (UK)
Long-listed for Gordon Burn Prize 2016 (UK)
ISBN: 9781786894229
Dimensions: 198mm x 129mm x 18mm
Weight: 205g
304 pages
Main - Canons