The Instant
Format:Paperback
Publisher:Canongate Books
Published:2nd Feb '23
£10.99
Available for immediate dispatch.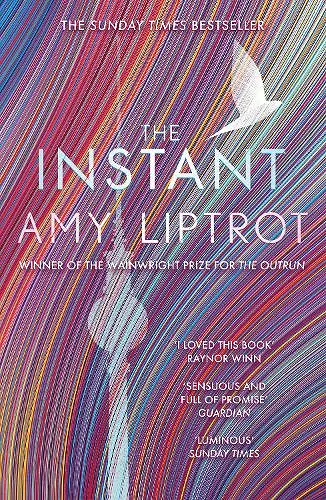 The Sunday Times-bestselling book from the multi-award-winning author of The Outrun- on the ecology of love and heartbreak, the urban environment and the digital age
THE SUNDAY TIMES BESTSELLER
SHORTLISTED FOR THE WAINWRIGHT PRIZE FOR NATURE WRITING

Wishing to leave behind the isolation of her Orkney island life, Amy Liptrot books a one-way flight to Berlin. She rents a loftbed in a shared flat and starts to look for work - and for love - through the screen of her phone.

The Instant tells of the momentous year that follows, encountering the city's wildlife in the most unexpected places, tracing the cycles of the moon, the flight paths of migratory birds and surrendering to the addictive power of love and lust.
I loved this book, such an intimate portrayal of emotional landscapes and the pull of the moon - it's one I'll return to often -- RAYNOR WINN
A slim, luminous account of living and loving in Berlin, picking up where The Outrun left off * * Sunday Times * *
Brilliant on the addictive bliss of romance . . . [The Instant is] a parable about the quicksands of internet dating, and a survivor's handbook 'for the heartsick' * * Telegraph * *
Beautiful . . . brilliant . . . The truest thing I've read in a long time. It feels revelatory to read serious, thoughtful writing on the sorts of experiences that so rarely receive it. . . The Instant is the most elegant examination of the internet's distance pain I have ever read -- EVIE WYLD * * New York Times * *
Elegant, melancholic and deeply yearning, The Instant captures something vital about our age: its strange dislocations and connections. I drank it in -- KATHERINE MAY
Glorious * * Times Literary Supplement * *
Intoxicating, generous and refreshingly original. The way Liptrot weaves her inner life with the natural world and the digital world is utterly absorbing. This book is so alive and so wild -- LUCY JONES
The Instant is magical, it is sexy, it is redolent of the natural world and it is all the things that makes Liptrot one of the most unique voices writing today . . . We simply cannot get enough Liptrot in our lifetimes. I want her to write a book every year * * Caught by the River * *
Wildness lurks in the edges of this book - nature in its more feral state, and unashamed eroticism. I gulped this slim, powerful, ravishing little book down in one -- CAL FLYN
A book of rare power. Part heartbreaking love story, part pin-sharp exploration of relationships in the digital age, The Instant is an intense and intensely beautiful book about connection, longing and the gravitational power of nature, and human nature, on the heart -- ROB COWEN
Short-listed for Wainwright Prize for Nature Writing 2022 (UK)
ISBN: 9781838854300
Dimensions: 198mm x 129mm x 13mm
Weight: 145g
208 pages
Main