Rootbound
Rewilding a Life
Format:Paperback
Publisher:Canongate Books
Published:24th Dec '20
£9.99
Available for immediate dispatch.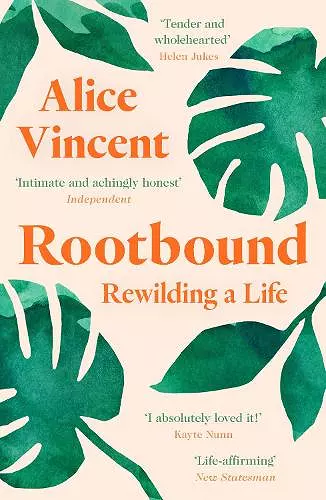 From the founder of Noughticulture, Rootbound explores how a whole new generation are discovering the power of plants
'Breathtakingly beautiful' i
'Tender and wholehearted' Helen Jukes

LONGLISTED FOR THE WAINWRIGHT PRIZE
A BEST BOOK OF THE YEAR IN THE INDEPENDENT, FINANCIAL TIMES, I and GARDENS ILLUSTRATED

When she suddenly finds herself uprooted, heartbroken, grieving and living out of a suitcase in her late twenties, Alice Vincent begins planting seeds. She nurtures pot plants and vines on windowsills and draining boards, filling her many temporary London homes with green. As the months pass, and with each unfurling petal and budding leaf, she begins to come back to life.

Mixing memoir, botanical history and biography, Rootbound examines how bringing a little bit of the outside in can help us find our feet in a world spinning far too fast.
Breathtakingly beautiful writing about the natural world . . . Vincent's championing of female gardeners from eras past is both cheering and fascinating . . . Rootbound is a story of growth * * i * *
This memoir has the potential to be the millennials' answer to Eat Pray Love * * Daily Telegraph * *
Rootbound is a poignant testimony to the joy that greenery will bring to your life, and it is a magical reminder that humans, like plants, can mend and grow in their own good time * * Independent * *
Reading this book is like breathing fresh spring air. Rootbound is achingly honest and earthily good, a beautiful hymn to wild hope, strength and tenderness, in nature and in ourselves. I loved it -- CHARLOTTE RUNCIE author of SALT ON YOUR TONGUE
A book about heartbreak, salvation, nature and balcony gardens . . . Alice Vincent mixes memoir with botanical history to explore how plants can heal us * * Huffington Post * *
As much a green prescription for a richer, more connected life as a beautiful story of hope. Rootbound captures our universal need for nature, freedom and replenishment, away from the manmade, rushed woes of modern living . . . A valuable reminder to us all, that couldn't come at a better time -- SARAH IVENS author of FOREST THERAPY
A deeply personal exploration of the healing power of plants * * Independent * *
There are riffs on everything from famous women gardeners to the history of New York's wondrous High Line elevated linear park . . . Rootbound gives a revealing insight into Alice's generation, their concerns, self-absorption and earnestness. It also radiates a youthful enthusiasm and optimism, a hunger to reconnect with nature even in the midst of a sea of concrete, and the refreshing belief that anything is possible. Millenials, in particular, will love it * * Daily Mail * *
Unrestrained, exuberant, vigorous, forthright . . . A tender and wholehearted story of re-finding that most precious resource, the space to grow -- HELEN JUKES author of A HONEYBEE HEART HAS FIVE OPENINGS
Heartbreak can be the best teacher . . . [A] hopeful memoir of self-discovery and horticulture . . . A beguiling bouquet whose vibrancy feels extra welcome as the first green shoots of spring start to show * * Mail on Sunday * *
Long-listed for Wainwright Prize for Nature Writing 2020 (UK)
ISBN: 9781786897725
Dimensions: 198mm x 129mm x 22mm
Weight: 246g
368 pages
Main