Listen To Me
The gripping new 2022 Rizzoli & Isles crime suspense thriller from the No.1 bestselling author
Format:Hardback
Publisher:Transworld Publishers Ltd
Published:7th Jul '22
£20.00
Available for immediate dispatch.
This hardback is available in another edition too: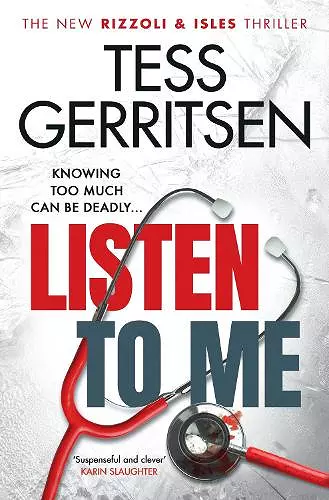 Rizzoli & Isles return, in the nail-biting new thriller from Sunday Times bestselling author Tess Gerritsen.

Detective Jane Rizzoli and Forensic Pathologist Maura Isles are investigating the gruesome murder of a nurse, whilst also protecting a young student from a stalker.
'Outstanding - inventive, scary, and funny. Listen to Me is Gerritsen at her best!' KATHY REICHS

This time she should have trusted her mother's intuition...

The murder of Sofia Suarez is both gruesome and seemingly senseless. Why would anyone target a respected nurse who was well-liked by her friends and her neighbours? As Detective Jane Rizzoli and Forensic Pathologist Maura Isles investigate the baffling case, they discover that Sofia was guarding a dangerous secret -- a secret that may have led the killer straight to her door.

Meanwhile, Jane's watchful mother Angela Rizzoli is conducting an investigation of her own. She may be a grandmother, not a police detective, but she's savvy enough to know there's something very strange, perhaps even dangerous, about the new neighbours across the street. The problem is, no one believes her, not even her own daughter.

Immersed in the hunt for Sofia's killer, Jane and Maura are too busy to pay attention to Angela's fears. With no one listening to her, and danger mounting in her neighbourhood, Angela just may be forced to take action on her own...

...But knowing too much can be deadly.

The nail-biting new Sunday Times bestselling thriller from Tess Gerritsen.

___

Readers are already raving about Listen to Me!
'Tightly woven plot, sharp characters and some laugh out loud scenes. LOVED IT' ⭐⭐⭐⭐⭐
'Twisting and turning with an intriguing plotline and maintaining a dark undercurrent throughout' ⭐⭐⭐⭐⭐
'This may have been my first Gerritsen book but it won't be the last!' ⭐⭐⭐⭐⭐

___

Praise for Tess Gerritsen:

'Suspenseful and clever - nobody is who they seem to be in this shocking and fast-paced mystery. Come for Rizzoli & Isles. Stay for an unbeatable read.'
KARIN SLAUGHTER

'Gerritsen walks that high wire between humour and suspense without ever falling off as she plays a great game of bait and switch with her readers.'
LINWOOD BARCLAY

'Tess Gerritsen's clever plotting...
Suspenseful and clever - nobody is who they seem to be in this shocking and fast-paced mystery. Come for Rizzoli & Isles. Stay for an unbeatable read. * Karin Slaughter *
Outstanding - inventive, scary, and funny. Listen toMe is Gerritsen at her best! * Kathy Reichs *
Absolutely first rate - readers will be thrilled and delighted by this new Rizzoli and Isles outing! * Shari Lapena *
Gerritsen walks that high wire between humour and suspense without ever falling off as she plays a great game of bait and switch with her readers. * Linwood Barclay *
I loved Listen To Me. Only the supertalented Tess Gerritsen can meld multiple storylines so successfully while she keeps the twists coming, the pages turning, and the blood spray arterial. This is her best novel yet. If you haven't read Rizzoli & Isles, this is the one to get! * Lisa Scottoline *
You need to #ListentoMe and read Tess Gerritsen's new thriller. It's fiendishly well-plotted. You won't work it out until the very end - guaranteed. I enjoyed every single line! * Lesley Kara *
The Rizzoli and Isles books are loved by many, including me; the women's warm, complicated friendship and superior investigative acumen remain, in their 13th outing, an utter pleasure to keep readerly company with * New York Times *
Explosive twists and pulse-pounding tension * Woman's Own *
ISBN: 9781787635661
Dimensions: 240mm x 162mm x 31mm
Weight: 536g
320 pages