Homelands
The History of a Friendship
Format:Hardback
Publisher:Canongate Books
Published:21st Apr '22
£16.99
Available for immediate dispatch.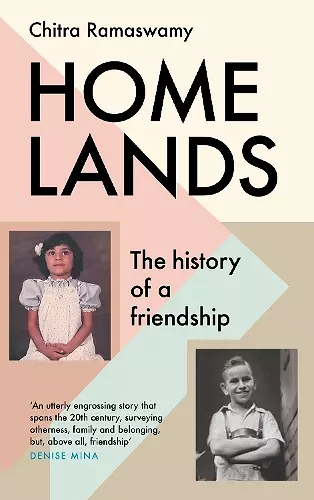 A book about history, friendship, family and what it means to belong, from the award-winning journalist and author of Expecting
THE SALTIRE'S NON-FICTION BOOK OF THE YEAR
A GUARDIAN'S BEST MEMOIR AND BIOGRAPHY OF 2022

This book is about two unlikely friends. One born in 1970s Britain to Indian immigrant parents, the other arrived from Nazi Germany in 1939, fleeing persecution.

This book is about common ground. It is a story of migration, anti-Semitism, racism, family, belonging, grief and resilience.

This book is about the past and the present. It is about the state we're in now and the ways in which we carry our pasts into our futures.

This book is about homelands.
Homelands is beautiful in unusual and wonderful ways, beyond the grace and magic when its prose rises almost to poetry. It is an extravagant exploration of the imaginative possibilities of empathy, of how a friendship can build a bridge across differences in origins and age, how you can enter into another life, why you should, what happens when you do -- REBECCA SOLNIT
Remarkable * * The Times * *
A fabulous piece of work -- CAL FLYN
Achingly beautiful * * Guardian * *
A spellbinding story of triumph and tragedy, war and sanctuary, emigration and belonging.Fans of Sebald and De Waal are going to love this -- GAVIN FRANCIS
An eloquent testament to the tribulations of national belonging * * New Statesman * *
A deeply reflective and moving account of a remarkable friendship that bridges a century. Homelands is at once meditative and urgent, humane and journalistic. I learned so much in these pages, and yet couldn't stop smiling at the simple strokes: the love, the kindness, the unlikely places friendship blooms -- DINA NAYERI
Vivid storytelling . . . Ramaswamy reflects with dreamlike clarity on memory and transience * * Observer * *
An astonishing read. It brings all the verve, drama and detail of fiction writing and the solid thinking and reflection of the best non-fiction. What an achievement -- PRIYAMVADA GOPAL
It is Henry's life story which is the gripping heart of the matter . . . immersive * * Scotsman * *
Winner of Saltire Society Non-Fiction Book of the Year 2022 (UK)
ISBN: 9781838852665
Dimensions: 220mm x 144mm x 34mm
Weight: 479g
368 pages
Main