Laidlaw
Format:Paperback
Publisher:Canongate Books
Published:1st Jul '21
Currently unavailable, our supplier has not provided us a restock date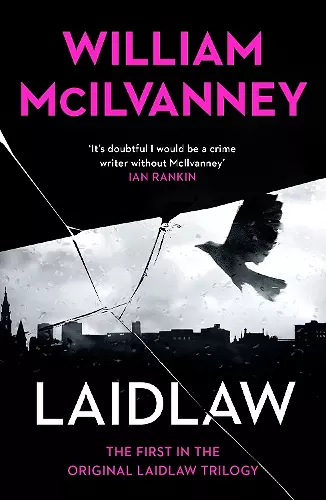 In the beginning there was Laidlaw.The CWA Silver Dagger-winning masterpiece that launched a genre, from the godfather of Scottish crime fiction
THE FIRST IN THE ORIGINAL LAIDLAW TRILOGY.WINNER OF THE CWA SILVER DAGGER.
THE DARK REMAINS, Laidlaw's first case, out 2 September 2021. PRE-ORDER NOW!

'If you only read one crime novel this year, this should be it' Guardian
'A bloody good read' Val McDermid

When a young woman is found brutally murdered in Kelvingrove Park, only one man stands a chance of finding her killer. Jack Laidlaw. He is a man of contrasts, ravaged by inner demons but driven by a deep compassion for the violent criminals in Glasgow's underworld. But will Laidlaw's unorthodox methods get him to the killer in time, when the victim's father is baying for blood?

Acclaimed for its corrosive wit, dark themes and original maverick detective, the Laidlaw trilogy has earned the status of classic crime fiction.
He kicked the door open so the likes of Ian Rankin, Denise Mina and me could sneak through behind him -- VAL McDERMID
The pure distilled essence of Scottish crime writing -- PETER MAY
Fastest, first and best, Laidlaw is the melancholy heir to Marlowe. Reads like a breathless scalpel cut through the bloody heart of a city -- DENISE MINA
It's doubtful I would be a crime writer without the influence of McIlvanney's Laidlaw -- IAN RANKIN
Forensic examination would likely reveal that all Scottish crime novels have a little Laidlaw in their DNA . . . Powerful, gripping and beautifully written -- Craig Robertson * * Guardian, Top 10 Scottish crime novels * *
A crime trilogy so searing it will burn forever into your memory. McIlvanney is the original Scottish criminal mastermind -- CHRISTOPHER BROOKMYRE
McIlvanney is the razor king of Scottish crime writing, carving out crackling prose and pounding storylines. His Laidlaw is an enduring hero with the dry wit and insight to make other literary detectives seem two-dimensional -- GORDON FERRIS
The Laidlaw books are not just great crime novels, they are important ones. McIlvanney proved that crime writing could have both perfect style and huge ambition. Most of us writing crime fiction today are standing on the shoulders of giants. McIlvanney is one such giant -- MARK BILLINGHAM
If you only read one crime novel this year, this should be it * * Guardian * *
In his compelling novel, LAIDLAW, McIlvanney lays bare the soul of Glasgow, capturing every nuance of its many voices -- ALEX GRAY
Winner of CWA Silver Dagger 1978 (UK)
Short-listed for Coventry Inspiration Book Awards 2013 (UK)
ISBN: 9781838856199
Dimensions: 198mm x 129mm x 18mm
Weight: 205g
304 pages
Main