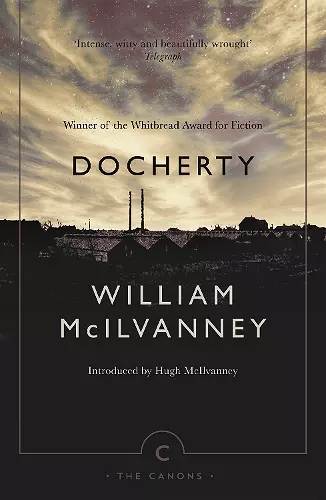 The Whitbread Prize-winning modern classic. Introduced by Hugh McIlvanney
'His face made a fist at the world. The twined remnant of umbilicus projected vulnerably. Hands, feet and prick. He had come equipped for the job.'

Newborn Conn Docherty, raw as a fresh wound, lies between his parents in their tenement room, with no birthright but a life's labour in the pits of his small town. But the world is changing, and, lying next to him, Conn's father Tam has decided that his son's life will be different from his own.

Gritty, dark and tender, McIlvanney's Docherty is a modern classic.
Intense, witty and beautifully wrought * * Telegraph * *
He has a hard muscular quality to his writing . . . His phrases hammer against you like a collier's pick * * The Times * *
Here a human history is mined with humour and a clenching sense of its sombre inequities: man's squat but lengthening shadow in the sun * * Guardian * *
William McIlvanney paints a world of harsh reality, but does so in language that is strangely beautiful and hauntingly poetic. His work defies pigeonholing in any genre: this is simply great writing from a master of his craft -- CRAIG RUSSELL
A serious, considered and achingly sympathetic engagement with the people whose only trace in historical record is birth and dead notices * * Scotsman * *
Winner of Whitbread Novel of the Year (UK).
ISBN: 9781782119616
Dimensions: 198mm x 129mm x 22mm
Weight: 281g
384 pages
Main - Canons Edition