The Papers of Tony Veitch
Format:Paperback
Publisher:Canongate Books
Published:19th Aug '21
£9.99
Available for immediate dispatch.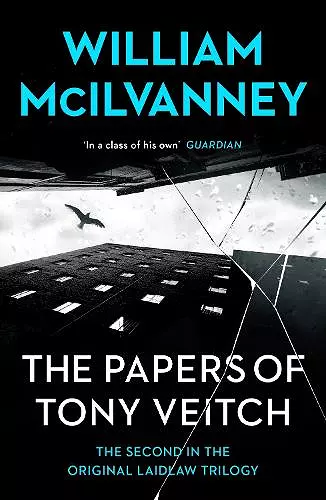 The CWA Silver Dagger-winning masterpiece from the godfather of Scottish crime fiction
THE SECOND IN THE ORIGINAL LAIDLAW TRILOGY. WINNER OF THE CWA SILVER DAGGER.
THE DARK REMAINS, Laidlaw's first case, out 2 September 2021. PRE-ORDER NOW!

'In a class of his own' Guardian
'Reads like a breathless scalpel through the bloody heart of a great city' Denise Mina

Eck Adamson, an alcoholic vagrant, summons Jack Laidlaw to his deathbed. Probably the only policeman in Glasgow who would bother to respond, Laidlaw sees in Eck's cryptic last message a clue to the murder of a gangland thug and the disappearance of a student. With stubborn integrity, Laidlaw tracks a seam of corruption that runs from the top to the bottom of society.

Acclaimed for its corrosive wit, dark themes and original maverick detective, the Laidlaw trilogy has earned the status of classic crime fiction.
A bloody good read -- VAL McDERMID
The pure distilled essence of Scottish crime writing -- PETER MAY
A crime trilogy so searing it will burn forever into your memory. McIlvanney is the original Scottish criminal mastermind -- CHRISTOPHER BROOKMYRE
It's doubtful I would be a crime writer without the influence of McIlvanney's Laidlaw -- IAN RANKIN
In a class of his own * * Guardian * *
The good news is that Laidlaw is back * * Observer * *
He kicked the door open so the likes of Ian Rankin, Denise Mina and me could sneak through behind him -- VAL McDERMID
Fastest, first and best, Laidlaw is the melancholy heir to Marlowe. Reads like a breathless scalpel cut through the bloody heart of a city -- DENISE MINA
McIlvanney is the razor king of Scottish crime writing, carving out crackling prose and pounding storylines. His Laidlaw is an enduring hero with the dry wit and insight to make other literary detectives seem two-dimensional -- GORDON FERRIS
The Laidlaw books are not just great crime novels, they are important ones. McIlvanney proved that crime writing could have both perfect style and huge ambition. Most of us writing crime fiction today are standing on the shoulders of giants. McIlvanney is one such giant -- MARK BILLINGHAM
Winner of CWA Silver Dagger 1983 (UK)
ISBN: 9781838856229
Dimensions: 198mm x 129mm x 19mm
Weight: 215g
320 pages
Main