Strange Loyalties
Format:Paperback
Publisher:Canongate Books
Published:19th Aug '21
£8.99
Available for immediate dispatch.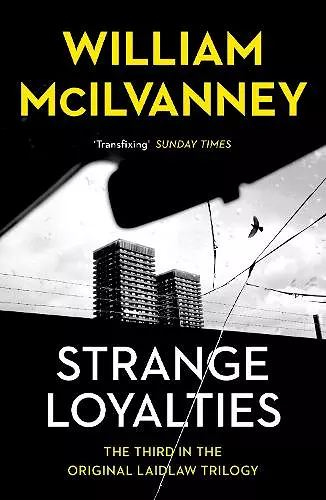 The remarkable conclusion to the Laidlaw series which launched a genre, from the godfather of Scottish crime fiction
THE THIRD IN THE ORIGINAL LAIDLAW TRILOGY
THE DARK REMAINS, Laidlaw's first case, out 2 September 2021. PRE-ORDER NOW!

'The Laidlaw books are not just great crime novels, they are important ones' Mark Billingham
'It's doubtful I would be a crime writer without the influence of McIlvanney's Laidlaw' Ian Rankin

When his brother dies stepping out in front of a car, Jack Laidlaw is determined to find out what really happened. Laidlaw begins an emotional quest through Glasgow's underworld, and into the past. He discovers as much about himself as about the brother he has lost, in a search that leads to a shattering climax.

Acclaimed for its corrosive wit, dark themes and original maverick detective, the Laidlaw trilogy has earned the status of classic crime fiction.
It's doubtful I would be a crime writer without the influence of McIlvanney's Laidlaw -- IAN RANKIN
His Laidlaw is an enduring hero with the dry wit and insight to make other literary detectives seem two-dimensional -- GORDON FERRIS
The Laidlaw books are not just great crime novels, they are important ones -- MARK BILLINGHAM
Transfixing * * Sunday Times * *
He kicked the door open so the likes of Ian Rankin, Denise Mina and me could sneak through behind him -- VAL McDERMID
The pure distilled essence of Scottish crime writing -- PETER MAY
A crime trilogy so searing it will burn forever into your memory. McIlvanney is the original Scottish criminal mastermind -- CHRISTOPHER BROOKMYRE
The good news is that Laidlaw is back * * Observer * *
In a class of his own * * Guardian * *
Reads like a breathless scalpel cut through the bloody heart of a city -- DENISE MINA
Winner of Glasgow Herald People's Prize 1992 (UK)
ISBN: 9781838856212
Dimensions: 198mm x 129mm x 23mm
Weight: 256g
384 pages
Main