A Tale for the Time Being
Format:Paperback
Publisher:Canongate Books
Published:2nd Jun '22
£9.99
Available for immediate dispatch.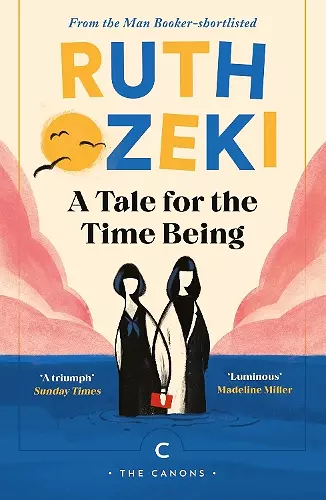 Shortlisted for the Man Booker Prize and the National Book Critics Circle Award, this is a timeless and compassionate novel about what it means to be human
In the wake of the 2011 tsunami, Ruth discovers a Hello Kitty lunchbox washed up on the shore of her beach home in British Columbia. Within it lies a diary that expresses the hopes, heartbreak and dreams of a young girl desperate for someone to understand her. Each turn of the page pulls Ruth deeper into the mystery of Nao's life, and forever changes her in a way neither could foresee.

Weaving across continents and decades, A Tale for the Time Being is an extraordinary novel about our shared humanity and the search for home.
This is one of the most deeply moving and thought-provoking novels I have read in a long time. In precise and luminous prose, Ozeki captures both the sweep and detail of our shared humanity, moving seamlessly between Nao's story and our own -- Madeline Miller * * author of THE SONG OF ACHILLES * *
A triumph . . . Ozeki explores what it means to be human in this moment, right now (Nao). Her novel is saturated with love, ideas and compassion. In short, an absolute treat -- Lucy Atkins * * Sunday Times * *
A Tale for the Time Being is a timeless story. Ruth Ozeki beautifully renders not only the devastation of the collision between man and the natural world, but also the often miraculous results of it. She is a deeply intelligent and humane writer who offers her insights with a grace that beguiles. I truly love this novel -- Alice Sebold
Ingenious and touching, A Tale for the Time Being is also highly readable. And interesting: the contrast of cultures is especially well done -- Philip Pullman
A beautifully interwoven novel about magic and loss and the incomprehensible threads that connect our lives. I just finished it, and loved it -- Elizabeth Gilbert * * author of EAT, PRAY, LOVE * *
Funny, heartbreaking, moving and profound . . . The warmth, compassion, wisdom and insight with which Ozeki pieces all these stories together will have the reader linked in a similarly profound way to this fantastic novel -- Doug Johnstone * * Independent * *
There is far too much to say about this remarkable and ambitious book in a few sentences. This is for real and not just another hyped-up blurb. A Tale For the Time Being is a great achievement, and it is the work of a writer at the height of her powers. Ruth Ozeki has not only reinvigorated the novel itself, the form, but she's given us the tried and true, deep and essential pleasure of characters who we love and who matter -- Jane Hamilton * * author of A MAP OF THE WORLD * *
A Tale for the TimeBeing is equal parts mystery and meditation. The mystery is a compulsive, gritty page-turner. The meditation -- on time and memory, on the oceanic movement of history, on impermanence and uncertainty, but also resilience and bravery - is deep and gorgeous and wise. A completely satisfying, continually surprising, wholly remarkable achievement, this is a book to be read and reread -- Karen Joy Fowler * * author of THE JANE AUSTEN BOOK CLUB * *
A huge, compassionate and cleverly wrought novel -- Natasha Lehrer * * TLS * *
Packed with philosophical asides about time, and is unexpectedly moving -- Kate Saunders * * The Times * *
Winner of The Kitschies Red Tentacle Award 2013 (UK)
Winner of Independent Booksellers Week Book Award 2013 (UK)
Short-listed for The Man Booker Prize 2013 (UK)
Short-listed for National Book Critics Circle Awards 2013 (United States)
ISBN: 9781838856250
Dimensions: 198mm x 129mm x 28mm
Weight: 308g
464 pages
Main - Canons