A Rattle of Bones
A Rebecca Connolly Thriller
Format:Paperback
Publisher:Birlinn General
Published:5th Aug '21
£8.99
Available for immediate dispatch.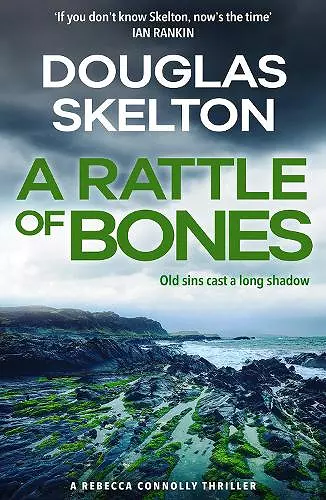 Longlisted for McIlvanney Scottish Crime Book of the Year
In 1752, Seamus a'Ghlynne, James of the Glen, was executed for the murder of government man Colin Campbell. He was almost certainly innocent.
When banners are placed at his gravesite claiming that his namesake, James Stewart, is innocent of murder, reporter Rebecca Connolly smells a story. The young Stewart has been in prison for ten years for the brutal murder of his lover, lawyer and politician Murdo Maxwell, in his Appin home. Rebecca soon discovers that Maxwell believed he was being followed prior to his murder and his phones were tapped.
Why is a Glasgow crime boss so interested in the case? As Rebecca keeps digging, she finds herself in the sights of Inverness crime matriarch Mo Burke, who wants payback for the damage caused to her family in a previous case.
Set against the stunning backdrop of the Scottish Highlands, A Rattle of Bones is a tale of injustice and mystery, and the echo of the past in the present.
'An intriguing Highland mystery peopled with quirky characters and peppered with wit' - Times Crime Club, Pick of the Week
'[a] compelling thriller, laced with dark humour' - Sunday Post
'[a] compelling thriller, laced with dark humour'
* Sunday Post *
'Skelton's talent is casting his descriptive eyes on the familiar and rendering truthful characters with a believable backstory' 
* The Scotsman *
'full of mystery, history, and quirky characters'
-- Jane Hamilton * Daily Record, Books of the Year 2021 *
'This is an intriguing Highland mystery peopled with quirky characters and peppered with wit'
* Times Crime Club, Pick of the Week *
'Beautifully drawn characters, finely crafted plot, with moments of genuine fear and dread. One of my favourite reads of the year so far'
-- Caro Ramsay
'Another beautifully written and compelling tale... Engrossing stuff'
-- Denzil Meyrick
'A rattling good read'
-- Craig Russell
'A tour-de-force'
-- Neil Broadfoot
'A Rattle of Bones has it all, mystery, death, investigation, relationships, organised crime, laughter, tears, jaw dropping and breath holding moments yet never makes the reading experience too busy. Don't miss it!'
* Chapter of My Life *
'Douglas Skelton plays his hand beautifully. …This is Tartan Noir at its best'
* Undiscovered Scotland *
'Making good use of its atmospheric Highland locations, A Rattle of Bones continues Skelton's winning streak'
-- Alastair Mabbott * Glasgow Herald *
'There are lots of reasons to love this series but one of the key ones is a brilliant evocation of the Scottish Highland landscape that permeates this book. It's a land that is majestic but can be barren and bleak; a land steeped in history that Skelton conjures up before our eyes; a land drenched in the blood of our forefathers and a land where stories whisper to you down the centuries'
* Live and Deadly Reviews *
'The book is made all the more atmospheric by Skelton's vivid portrayal of the Scottish Highlands' landscape'
-- Megan Williams * Scottish Field *
'Fabulously set, brilliantly written and perfectly atmospheric'
* The Reading Closet *
'Once again Douglas Skelton has created a cracking good read'
* Crimefictionlover.com *
'Douglas Skelton always delivers a tight, gripping thriller. Skelton will perfectly balance tension, humour and the human engagement needed from characters to make them authentic and believable. He constantly delivers… If every book was as enjoyable as this i'd be a happy reader'
* Grabthisbook.net *
'The author does a superb job of capturing her [Rebecca Connolly's] fears, her anxiety but also her determination… Every one of the characters in this story is beautifully fleshed out... A blend of fact and fiction, the book taps into all that I love about Scottish crime fiction. If you've not read any of the books yet, you really do need to give them a try... Definitely recommended'
* Amazon Top 500 reviewer *
'A must read for anyone who likes their crime with a side order of history, a well written female lead and beautiful Scottish scenery. Fast paced and action packed, A Rattle of Bones keeps the reader engaged from first page to last'
* Kindle reviewer *
'Twists and turns galore, a white knuckle ride through the ganglands of Glasgow and Edinburgh and set against the backdrop of the Highlands. Beautifully written, this book is a must read'
* Amazon reviewer *
'A deliciously atmospheric, tense and thrilling read. Goes straight into the must read category with the first two books in the series'
* A Vine Voice *
'a thrilling murder mystery... packed with twists and turns'
-- Scottish Books International
'A well-written detective thriller… Douglas Skelton's characterisation is excellent'
-- Graham Drew * Press and Journal, Book of the We
Long-listed for The McIlvanney Prize Scottish Crime Book of the Year 2022
ISBN: 9781846975639
Dimensions: 198mm x 129mm x 1mm
Weight: 240g
288 pages