This Is Not About Me
Format:Paperback
Publisher:Granta Books
Published:4th May '09
£9.99
Available to order, but very limited on stock - if we have issues obtaining a copy, we will let you know.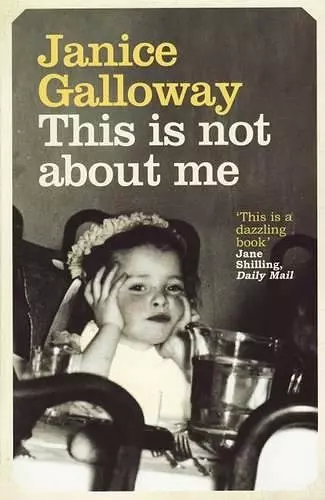 'My mother thought I was the menopause' - one of Britain's greatest contemporary novelists turns her focus, in luminous, powerful prose, to her eccentric childhood in the 1950s and '60s.
From her earliest years with a boozy, accident-prone father and a reluctantly pragmatic mother, Janice Galloway grew up as a watcher - careful and vigilant. Then her parents' marriage broke up and mother and daughter moved to an attic above a doctor''s surgery. When her big sister Cora returned home, with her steady stream of boyfriends, snappy dress sense and matching temper, evasion became a way of life. This is a funny and telling book about the routine dependencies and confusions, hopes and triumphs of childhood; it is also a book about emergence, as, slowly, the beginnings of unsuspected rage pushed the silent girl towards her voice.
Sublime prose and fierce honesty set it apart ... Part of Galloway's skill in This is Not About Me is how she keeps a child's sense of bewilderment and secret understanding * Telegraph *
Blistering, terrifying, always moving * Independent on Sunday *
Galloway provides sentences blazing with light, a gorgeous draft of terror * Observer *
Galloway takes her readers straight back into childhood's wincingly recognisable uncertainties, dislocations and disruptions. She had more of them than most ... one of the most moving, yet completely unsentimental, accounts of growing up that you will ever read * Scotsman *
A literary, not a misery, memoir. There is mirth, and a Proustian attention to the sights, sounds and smells of the industrialized coast of Clydeside * Sunday Times *
On reluctantly closing the boards of this unforgettable memoir, the words "first volume" are strangely comforting - a combination of Galloway's power and the fact that the wee girl done good make it so * Scotland on Sunday *
A dazzling book - Galloway is brilliant on the minute detail of childhood perception. She is also brave, funny, resilient and in spite of everything full of emotional generosity * Daily Mail *
A book unlike any other, in which Galloway has captured what it means to start to become yourself * Guardian *
Beautifully observed, witty and wonderfully evocative * Woman's Weekly *
Short-listed for Biographers' Club Prize for Best First Biography.
ISBN: 9781847080998
Dimensions: 191mm x 130mm x 21mm
Weight: 246g
352 pages