All Made Up
Format:Paperback
Publisher:Granta Books
Published:5th Jul '12
£9.99
Available to order, but very limited on stock - if we have issues obtaining a copy, we will let you know.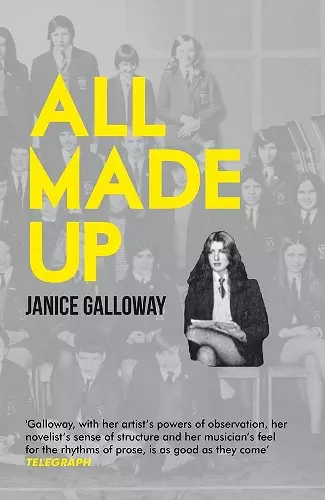 One of our greatest contemporary authors writes about sex, school and adolescence in 1970s small-town Scotland.
In the second volume of her memoirs, the prize-winning author Janice Galloway reveals how the child introduced in This is Not About Me evolved through her teenage years. When she started secondary school, Galloway was still sharing a bed with her mother and was more excited by Latin and school orchestra than by boys. But as she struggled with the physical and emotional changes of adolescence, almost everything she thought she knew began to change. Combining visceral descriptions of puberty, sex and school-room politics with the story of a family's secrets, Galloway casts her gaze on the morals and ambitions of one small town, in writing that is personal, defiant and eloquent.
All Made Up is an excellent sequel; its verbal playfulness, folksiness and wry, hard-won humour are an antidote to the neurosis and cynicism that can often characterise autobiographical writing by the authors of fiction -- Victoria Beale * Independent on Sunday *
Warm, vivid, true -- Erica Wagner * The Times *
Galloway remains a brilliant writer, capturing mood and character, time and place, with seeming effortlessness -- Ian Rankin * Guardian *
A fierce but forgiving tragi-comedy of manners, morality and memory recovered -- Iain Finlayson * The Times *
Galloway is a mesmerising writer -- Catherine Deveney * Scotland on Sunday *
Janice Galloway is as good as they come -- Jane Shilling * Daily Telegraph *
Galloway conjures up the atmosphere [of Saltcoats] with a loving hatred ... Her style is vivid and fluent -- Adam Mars-Jones * Observer *
A tour de force of artistic licence projecting the past through the lens of the artist's imagination ... The book is a testament to Galloway's talent ... The book is a wonderful curiosity shop of the mysteries of womanhood -- Tom Adair * Scotsman *
Galloway's prose crackles as fiercely as her mother's brushed-nylon sheets... a writer able to conjure up the blistering emotional life of an ever-watchful child -- Emma Hagestadt * Radar *
Superb -- Lesley McDowell * Sunday Herald *
A brilliant writer, capturing mood and character, time and place, with seeming effortlessness -- Ian Rankin * Guardian *
Janice Galloway is the queen of whatever she chooses to write . . . one of Scotland's best writers -- Damien Barr * Herald *
Winner of SMIT Scottish Book of the Year 2012 (UK)
ISBN: 9781847083272
Dimensions: 200mm x 110mm x 15mm
Weight: 50g
320 pages