The New Climate War
the fight to take back our planet
Format:Paperback
Publisher:Scribe Publications
Published:10th Feb '21
£16.99
Available for immediate dispatch.
This paperback is available in another edition too: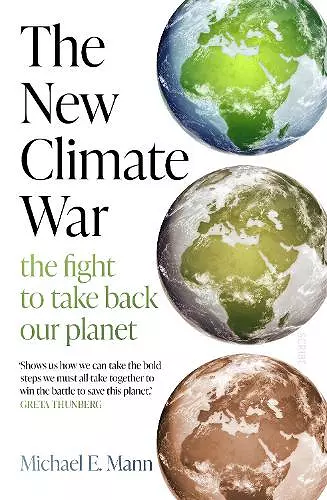 One of The Observer's 'Thirty books to help us understand the world'
Shortlisted for the Financial Times and McKinsey Business Book of the Year Award
Recycle. Fly less. Eat less meat. These are some of the ways that we've been told we can save the planet. But are individuals really to blame for the climate crisis?
Seventy-one per cent of global emissions come from the same hundred companies, but fossil-fuel companies have taken no responsibility themselves. Instead, they have waged a thirty-year campaign to blame individuals for climate change. The result has been disastrous for our planet.
In The New Climate War, renowned scientist Michael E. Mann argues that all is not lost. He draws the battle lines between the people and the polluters — fossil-fuel companies, right-wing plutocrats, and petro-states — and outlines a plan for forcing our governments and corporations to wake up and make real change.
'Mann shows that corporations and lobbyists have been successful in convincing us that climate change will be fine, if we just recycle our bottles and turn out the lights. Instead, he says, global warming is a problem way too hot for any one person to handle. He's optimistic though, because he sees what we really can and will do. Read his book, and let's get to work.'
-- Bill Nye, science educator, CEO of The Planetary Society
'Fossil fuel companies have, for decades longer than I have been alive, been the largest contributors to the climate crisis that affects my generation today — all in pursuit of profits and growth. In The New Climate War, Michael Mann holds them to account, and shows us how we can take the bold steps we must all take together to win the battle to save this planet.'
-- Greta Thunberg, climate activist
'This book takes the reader behind the front lines into the decades long information war waged by the fossil fuel industry and those that share their interests. From his perspective as a leader in the battle for scientific reason, Michael Mann provides hope and a roadmap for all of us to address the systemic issues fuelling climate change, and shows how we can come together to wage a new war in the fight for our future.'
-- Leonardo DiCaprio, actor and environmental activist
'With this book, Michael Mann details the challenges we face from enemies ('inactivists') both without and within while dropping critically important breadcrumbs for us to follow to lead us out of the forest of despair and set us on the path of victory in a battle we must win. We need an army of Michaels, stat!'
-- Don Cheadle, actor, activist, and UN global goodwill ambassador
'Pulling no punches, Michael Mann lays out our predicament and tells the shocking story of persistent climate denial and corporate deception. We are in a war for the planet, but one we are now on the verge of winning. And he deftly cuts through the propaganda and shows us the path forward.'
-- Jerry Brown, California governor, 1975-1983, 2011-2019
'For over two decades, Michael Mann has been our Janus at the gates, defending climate science from corporate-funded insinuations of confusion and suspicion. We would not have progressed this far had it not been for his unflinching and brilliant rejoinders to the traffickers of doubt. This chronicle of ongoing climate injustice may make you mad, but hopefully it will make us act. This is the only civilisation we have. Mann is its resolute champion once again.'
-- Paul Hawken, founder of Project Drawdown
'The New Climate War is an insightful treatise on how the polluting fossil fuel industry and their right-wing allies have deflected the blame for the climate crisis. The book charts a common sense course for collective actions to force government and corporations to make real solutions to the climate crisis — an existential threat to humanity and the planet.'
-- Robert D. Bullard, professor of Urban Planning and Environmental Policy at Texas Southern University
'A fascinating journey through the minds and motivations of the champions of climate denialism as well as the more recent climate doomists. Along the way, we learn of the unequivocal scientific evidence and the rapid evolution of technological solutions. Most importantly, public opinion finally seems to be at a 'tipping point' to catalyse political will to leave the next generation a sustainable world — and not a moment too soon!'
-- Rosina Bierbaum, professor at University of Michigan and University of Maryland, and former Acting Director of OSTP
'Brilliant.'
-- Ben Cooke * The Times *
'Few people bear more scars from the climate wars than Michael Mann — and few have fought longer and harder for a basic, rational approach to dealing with this greatest of crises. Because of his persistence — and that of so many others — we are finally making progress!'
-- Bill McKibben, author of
Falter: has the human game begun to play itself out?
'The New Climate War is engaging, approachable, and ultimately deeply uplifting. Mann outlines a hopeful vision of the transformation we must undertake in order to create a better, brighter future on this planet. He makes the clear case that our species is capable of great change, laying out exactly why and how we can rise to overcome the grave challenges before us.'
-- Sasha Sagan, author of
For Small Creatures Such As We
'Comprehensive.'
* The Financial Times *
'Thought-provoking.'
-- Pilita Clark * Financial Times *
'The New Climate War is a punchy, provocative, informed … deeply personal take on the crisis, by a respected voice in the climate science and communications field.'
-- John Gibbons * The Irish Times *
'Provocative … The New Climate War makes a compelling case both for revising the global Green New Deal and for counteracting disinformation from climate sceptics.'
-- John Meagher * Irish Independent *
'Michael Mann is a pre-eminent climate scientist whose academic pedigree is beyond question.'
-- Art Flynn * Irish Examiner *
'The New Climate War is an enlightening exposé of something that many of us probably already took as given: vested financial interests are psychotic in their efforts to control the dialogue.'
-- David Ferrell * The Canberra Times *
'Mann starts from the premise that we can save the planet from the worst impacts of climate change if we move to net-zero carbon emissions. As a scientist, he dismisses most scenarios of an uninhabitable Earth because they're based on a misunderstanding of methane feedback loops, and, as a citizen, he has no time for "climate doom porn" because it leads to political paralysis. But if Mann is "objectively hopeful", he's not naïve. The challenges are real and the vested interests of business as usual are powerful ... Michael Mann may or may not be a Climate Jedi, but he is a climate smart guy and The New Climate War is a must read.'
-- Donald Wright * The Globe & Mail *
'Mann is the genuine article ... his prose rattles along, entertaining and horrifying us in equal measure as he exposes scientists, politicians, the conservative media and other supposed experts who have slowed climate action by caring more about the interests of big industry.'
-- Philippa Nuttall Jones * New Statesman *
'Mann's call to get serious about climate change couldn't be more timely.'
-- Richard Schiffman * New Scientist *
'A strategic, wide-ranging overview of humanity's present predicament and an exploration of possible pathways out of it.'
-- Jonathan Watts * The Guardian *
'The main focus of Mann's book is a call to arms in the new war against "inactivists" who are using new tactics of "deception, distraction and delay" to prevent the phase-out of fossil fuels. Mann is a robust character ... Mann does not pull his punches, but his aim is usually strong and true. This book will no doubt prove controversial for some climate campaigners, as well as the deniers, but I hope it will be read by everybody who is engaged in making the case for action.'
-- Bob Ward * The Observer *
'A wonderfully confrontational book.'
-- David Robbins * Sunday Independent *
'Spirited.'
-- Caroline O'Doherty * Irish Independent *
'This book is a must read not just for people currently working to address climate change but also for those who are new to the climate fight, the latter of whom will learn much about past challenges, struggles, and attacks that have been aimed at climate champions.'
* Science Magazine *
'An engrossing mix of footnoted history, acerbic political commentary and personal anecdotes.'
* Science News *
'One of the world's leading climate scientists embarks on a journey into the minds of climate change deniers to try to understand their motivations and strategies … Blunt, lucid … Consistently displaying his comprehensive command of climate science and the attendant politics … An expert effectively debunks the false narrative of denialism and advocates communal resistance to fossil fuels.'
* Kirkus Reviews *
'The New Climate War is an informed, opinionated guide to an ever-changing conflict.'
* Shelf Awareness *
'Fantastic.'
-- David Ritter * Pro Bono Australia *
'[P]unchy and illuminating … uses both peer-reviewed climate science research and combative wit to expose the strategies of people and industries bent on deflecting responsibility and limiting the systemic change necessary to move the world away from dependence on planet-destroying fossil fuel ... Mann clearly has skin in this game. Both his professional and personal reputations have been viciously attacked in response to his work. Here he fights back, settles some scores and argues for the necessity and possibility of aggressive, systemic changes. It's a bracing read — both eye-opening and even fun.'
-- Alden Mudge * BookPage *
If there's ever a Hall of Fame for climate scientists, Michael Mann will be among the first to be inducted.
* Rolling Stone *
'The New Climate War is a detailed, passionate, and insightful overview of the latest schemes by fossil fuel interests and their minions to halt or delay a transition to a clean energy economy.'
* The Progressive *
'Lucid, accessible and an important read for anyone who cares about the present and future of climate action.'
* The Centre Daily Times *
'Mann's book is an important addition to the pushback against inaction and doom that has delayed action against climate change for too long and led too many to surrender without even a fight.'
* Sierra Club magazine *
'Extremely insightful.'
-- Tim Rook * H and V News *
'Few people bear more scars from the climate wars than Michael Mann — and few have fought longer and harder for a basic, rational approach to dealing with this greatest of crises. Because of his persistence — and that of so many others — we are finally making progress!'
-- Bill McKibben, author of
Falter: has the human game begun to play itself out?
'Mann is an excellent communicator, and his book is also a very good place to find out what the current climate science actually does and does not say.'
-- Bibek Bhattacharya * Mint *
'Mann's book is enlightening. Despite the seriousness of the subject, his book entertains, raises awareness, and inspires optimism. That is how we fight for the climate.'
-- Claudia Detsch, IPS Journal
'[The New Climate War] explains very clearly, with researched facts, that the focus on individual behaviours to slow climate chaos is the result of a marketing campaign that has succeeded in guilt tripping the individual and deflecting responsibility from the fossil fuel companies, where it belongs.'
-- Ruah Swennerfelt * Friends Journal *
'[The New Climate War] is a book relevant to people everywhere, and especially those in our region concerned about environmental change.'
-- Richard Frost
'An engaging, well-documented book about climate politics and the industrial and political forces that have resisted the science of climate change and continue to manipulate and distort public perceptions about its causes and effects.'
-- Susan Glick * Seacoast Online *
'An important and timely book — well worth reading.'
-- Stephen Shenfield * WSPUS Newsletter *
'This book can jolt you out of despair and 'doomism' over climate change.'
-- Jean Boivin * Blackrock Investment Institu
Short-listed for FT & McKinsey Business Book of the Year 2021 (UK)
Short-listed for Business Book Award in the International Business Book category 2022 (UK)
Long-listed for The Wainwright Prize for Writing on Global Conservation 2021 (UK)
ISBN: 9781913348687
Dimensions: 234mm x 153mm x 26mm
Weight: unknown
368 pages