Rebus: The Early Years
Knots & Crosses, Hide & Seek, Tooth & Nail
Format:Paperback
Publisher:Orion Publishing Co
£17.09 was £18.99
Available to order, but very limited on stock - if we have issues obtaining a copy, we will let you know.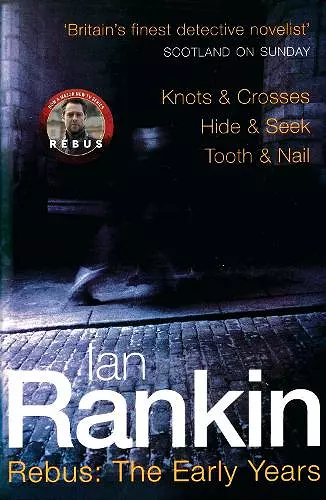 From bestselling Ian Rankin, winner of the 1997 CWA Macallan Gold Dagger for fiction for Black & Blue, come the early Inspector Rebus novels, gathered in one volume for the first time.

KNOTS & CROSSES: Two girls have been abducted and brutally murdered. Now a third is missing. Detective Sergeant John Rebus, his own young daughter spirited away south by his disenchanted wife, is one of the policemen hunting the killer. And then the messages begin to arrive: knotted string and matchstick crosses - taunting Rebus with pieces of a puzzle only he can solve ...

HIDE & SEEK: A junkie lies dead in an Edinburgh squat. Just another addict, until Inspector Rebus begins to chip away at the indifference, treachery, deceit and sleaze that lurk behind the façade of the city familiar to tourists. And only Rebus seems to care about a death that looks more like murder every day, a death that appeals to the darkest corners of his mind.

TOOTH & NAIL: Drafted down to the Big Smoke thanks to a supposed expertise in the modus operandi of serial killers, Inspector Rebus is on the trail of a man who, due to his penchant for taking a bite from each of his victims, is known as the Wolfman. When Rebus is offered a profile of the Wolfman by an attractive lady psychologist, it seems too good an opportunity to turn down. But in finding an ally, he may have given his enemies an easy means of attack ...
ISBN: 9780752837994
Dimensions: 232mm x 155mm x 36mm
Weight: 778g
608 pages