The Falls
From the iconic #1 bestselling author of A SONG FOR THE DARK TIMES
Format:Paperback
Publisher:Orion Publishing Co
Published:4th Aug '11
£8.99
Available for immediate dispatch.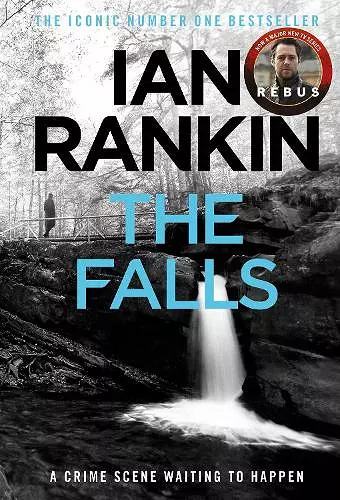 The twelfth Inspector Rebus bestseller - a powerfully gripping novel where past and present collide...
From the No.1 bestselling author of A SONG FOR THE DARK TIMES

'This is, quite simply, crime writing of the highest order' DAILY EXPRESS

'The unopposed champion of the British police procedural' GUARDIAN

A student has gone missing in Edinburgh. She's not just any student, though, but the daughter of well-to-do and influential bankers. There's almost nothing to go on until DI John Rebus gets an unmistakable gut feeling that there's more to this than just another runaway spaced out on unaccustomed freedom.

Two leads emerge: a carved wooden doll in a toy coffin, found in the student's home village, and an internet role-playing game. The ancient and the modern, brought together by uncomfortable circumstance...
It may be the 12th time out for Rankin's maverick detective, but The Falls still feels as fresh as ever . . . If you haven't read the other 11 Rebus novels, it's about time you did * THE MIRROR *
The Falls, the 12th full-length Inspector Rebus story, finds his creator, Ian Rankin, at his brilliant, mordant best, with the dark heart of the city featuring almost as strongly as Rebus himself -- Antonia Fraser * SUNDAY TELEGRAPH *
A complex mystery novel, as you would expect from Rankin, one of a handful of truly outstanding British mystery writers . . . Terrific * OBSERVER *
An extraordinarily rich addition to crime literature * INDEPENDENT ON SUNDAY *
Rankin continues to be unsurpassed among living British crime writers . . . He makes the reader feel part of the scene, and enhances the experience with his virtuosity with dialogue . . . But all these virtues would count for little if Rankin didn't also possess the most important asset of them all - the ability to tell a damned good story -- Marcel Berlins * THE TIMES *
A very skilful entertainment . . . its clues are as learned and cross-word-puzzling as any in John Buchan * TLS *
The Falls is an inventive and absorbing book . . . Once again the city, cast in shadows and light, is centre stage, as complex and brooding as Rebus himself . . . Ian Rankin, a crime writer with style, has produced another highly enjoyable and exciting book * THE SCOTSMAN *
It is a fact universally acknowledged that Ian Rankin leads the field in the category of British humanistic crime writing . . . his ability to wrap together diverse ingredients into a plot-sandwich bulging with flavour is ingenious * SCOTLAND ON SUNDAY *
Rankin has an intuitive grasp of the dark magic of narrative: at its simplest, you read the books because you want to know what will happen. He writes beautifully, too . . . Few would disagree that Ian Rankin is making a contribution to crime fiction that will last. His novels are playing a significant part in redefining Scotland's image of itself in literature. He is one of a handful of British crime writes whose books are not only commercially successful but also build a strong case for why crime fiction, at its best, can and should be considered as literature * INDEPENDENT ON SUNDAY *
Whatever it is that makes a good crime writer, Ian Rankin has it in spades * IRISH TIMES *
Rankin masterfully pulls his fascinating plot together, and his sense of place casts a powerful shadow on this subtle tale of the recurrence of evil. The unopposed champion of the British police procedural field * GUARDIAN *
This is the 12th novel featuring Inspector Rebus, one of the undoubted stars of modern British crime fiction . . . Ian Rankin is a first-rate storyteller in the classic mould, but what really distinguishes his work is his gift for characterisation * MAIL ON SUNDAY *
ISBN: 9780752883649
Dimensions: 198mm x 133mm x 32mm
Weight: 361g
512 pages