Dark Suits And Sad Songs
A D.C.I. Daley Thriller
Format:Paperback
Publisher:Birlinn General
Published:27th Apr '15
£8.99
Available for immediate dispatch.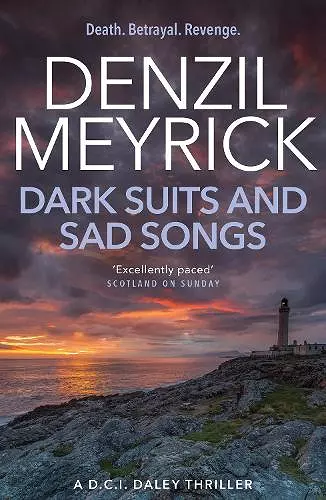 When a senior Edinburgh Civil Servant spectacularly takes his own life in Kinloch Harbour, D.C.I. Jim Daley comes face-to-face with the murky world of politics. To add to his woes, two local drug dealers lie dead, ritually assassinated. It's clear that dark forces are at work in the town. With his boss under investigation, his marriage hanging on by a thread, and his sidekick wrestling with his own demons, Daley's world is in meltdown. 
When strange lights appear in the sky over Kinloch, it becomes clear that the townsfolk are not the only people at risk. The fate of nations is at stake. Jim Daley must face his worst fears as tragedy strikes. This is not just about a successful investigation, it's about survival.
'If you thought Denzil Meyrick's previous book, The Last Witness was thrilling, this one is truly mesmerising... completely captivating... DCI Daley is shaping up to be the West Coast's answer to Edinburgh's Rebus'
* Scottish Home & Country *
'The right amount of authenticity ... gritty writing ... most memorable'
* The Herald *
'Touches of dark humour, multi-layered and compelling'
* The Daily Record *
'Has the ability to give even the least important person in the plot character and the skill to tell a good tale'
* The Scots Magazine *
'Simultaneously dark and funny'
* Scottish Fie
ISBN: 9781846973154
Dimensions: 195mm x 130mm x 25mm
Weight: 276g
378 pages