For Any Other Truth
A D.C.I. Daley Thriller
Format:Paperback
Publisher:Birlinn General
Published:3rd Jun '21
Should be back in stock very soon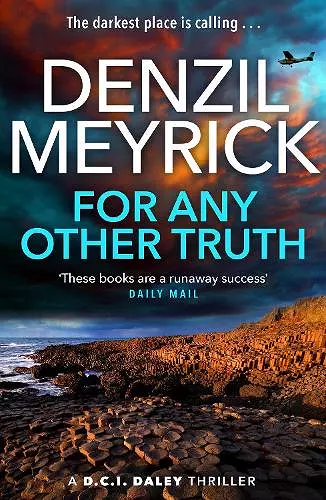 A SUNDAY POST TOP PICK FOR SUMMER READING
'This latest DCI Daley thriller is deftly plotted and peopled with sympathetically drawn local characters and satisfyingly nuanced local wrongdoers' – Irish Independent
When a light aircraft crash-lands at Machrie airport, DCI Jim Daley and his colleague Brian Scott rush to the scene. But it soon becomes clear that both occupants of the plane were dead before take-off ...
Meanwhile in Kinloch, local fisherman Hamish is unwittingly dragged into danger when he witnesses something he shouldn't, and hotel manager Annie is beginning to suspect her new boss may not be as he first appeared.
And just as Chief Superintendent Carrie Symington thinks she has finally escaped the sins of her past, she finds herself caught in an even deadlier trap.
As the action spills across the sea to County Antrim – all under the scrutiny of the Security Service – the search is on for any other truth.
'This latest DCI Daley thriller is deftly plotted and peopled with sympathetically drawn local characters and satisfyingly nuanced local wrongdoers'
* Irish Independent *
'a novel which you are likely to read with deepening pleasure'
-- Allan Massie * The Scotsman *
'Meyrick has really hit his stride with this one, with the development of DCI Daley and his rather complex sidekick DI Scott particularly well done. Well-considered smatterings of dark humour break the tension, there is a satisfying pace and beautiful Scottish backdrops are an added bonus'
* Scottish Field *
'in high demand across the globe ... A runaway hit. Readers instantly warm to Daley'
* Daily Mail on the DCI Daley Series *
'Gritty, gripping story, Fabulous characters, full of humour and if that was not enough the sense of place is just superb. Every time I finish one I think "When is the next one coming?"'
* Bookseller review *
'A complex but compelling plot keeps the reader firmly on their toes as they turn each page; it becomes almost impossible to put it down. This one wrung all the emotions from me, it had my jaw clattering off the floor a fair few times and a wee hankie dabbing at the eyes at others. Do yourself a favour and go buy this now!'
* Chapter of My Life *
'a fine example of tartan noir, superior to most of the genre'
* The Scotsman on the DCI Daley Series *
'I am in awe of any writer who can make you hold your breath on the one hand and laugh out loud on the other. Such is For Any Other Truth'
-- Waterstones Bookseller, Horsham
'The DCI Daley books have the right ingredients to become hit TV: Stunning scenery, gripping stories, compelling characters'
* The Scottish Sun *
'Just finished Denzil Meyrick's 'For Any Other Truth' - take a tale, twist it and twist it thrice - a cool, addictive roller coaster of a read'
-- Gordon Brown (author of Thirty-One Bones)
'A twisty, intricate, and action-packed crime novel… demands that you keep on your toes as it splinters thoughts and catches emotions unawares ... With a fabulous cast and intricate plot, this crime novel packs a punch on the emotional front too'
* LoveReading *
'Dramatic … satisfying … Definitely a book to take on holiday and read by the beach or pool, or wherever we end up this year!'
* Press and Journal, Scottish Book of the Week *
'It's a complex story… Meyrick is skilled enough to pull it together'
-- Alastair Mabbott * Herald *
'Denzil Meyrick writes fine crime novels and they get better with every outing. One of the few crime thrillers where the dialogue makes [you] laugh out loud. Meyrick brings real life and depth to his fictional community. Compelling'
* Journal of the Legal Society of Scotland *
'This book is the best so far, the storyline was original and fast paced, I was on the edge of my seat the whole way through… thank you for another brilliant read'
* Judesbookwormblog.c
ISBN: 9781846975714
Dimensions: 198mm x 129mm x 24mm
Weight: 304g
432 pages