A Gift from Nessus
Format:Paperback
Publisher:Canongate Books
Published:2nd Jan '14
£9.99
Available to order, but very limited on stock - if we have issues obtaining a copy, we will let you know.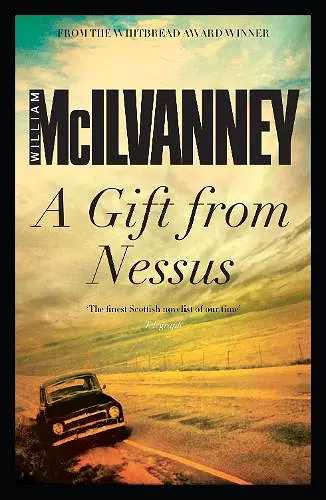 'The finest Scottish novelist of our time' Telegraph
Eddie Cameron is a salesman for Rocklight Ltd., an electrical equipment firm in Glasgow, where he has been fiddling the firm's expenses. Eddie's life is in tatters - his wife hates him, and his violent temper has left his mistress teetering on the edge of sanity.
There is a sense of moral growth in A Gift from Nessus that lifts it out of the ordinary . . . almost frighteningly truthful and moving * * The Times * *
McIlvanney is a compassionate writer and leaves an impression both of high seriousness and great charm * * Sunday Telegraph * *
William McIlvanney paints a world of harsh reality, but does so in language that is strangely beautiful and hauntingly poetic -- Craig Russell
ISBN: 9781782113034
Dimensions: 198mm x 129mm x 14mm
Weight: 154g
224 pages
Main